Numer 23 (4/2018)
Tytuł: Scandinavian Studies
Redaktor: Joanna Stożek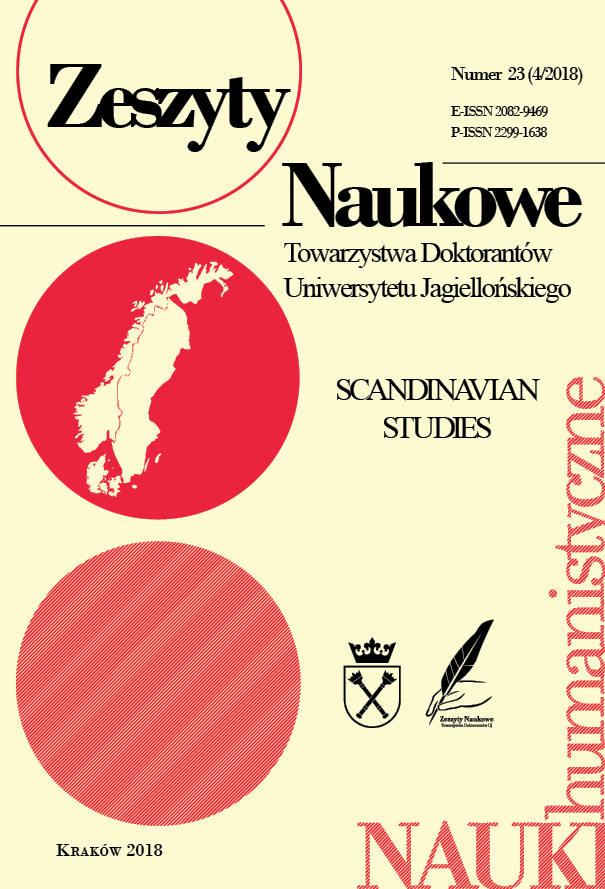 Spis treści
Strony
Pobrań
Piotr Dyguś
Sacrum och stavning. Användning av stora och små bokstäver i det svenska och polska liturgiska språket
DOI: 10.26361/ZNTDH.09.2018.23.01
7 – 18
Słowa kluczowe
liturgiskt språk, Romerska missalet, stavning, parallella språkkorpusar
Streszczenie
I denna artikel analyseras användning av stora och små bokstäver i det svenska och polska liturgiska språket. Syftet med artikeln är att påpeka skillnader och likheter i de ortografiska reglerna som används i de liturgiska texterna, men även undantag från reglerna. Forskningsmetoden är parallella språkkorpusar som innehåller de liturgiska bönerna i de två ovannämnda språkversionerna.
Den genomförda analysen visar att det förekommer stora olikheter i användningen av stora och små bokstäver i stavning av egennamn och teonymer. I enlighet med de ortografiska reglerna i polskan används stora begynnelsebokstäver vid stavningen av namn på liturgiska perioder eller festdagar vilket inte förekommer i de svenska liturgiska texterna. Teonymerna däremot stavas vanligtvis med stora bokstäver i båda språken.
Afiliacja
Uniwersytet Jagielloński w Krakowie
Damian Herda
On the Grammaticalization of Partitives into Degree Adverbs: The Case of Polish Odrobina 'Crumb; a Little' and Swedish Smula 'Crumb; a Little'
DOI: 10.26361/ZNTDH.09.2018.23.02
19 – 32
Słowa kluczowe
Polish, grammaticalization, partitive, quantifier, degree adverb, Swedish
Streszczenie
Apart from degree adverbs derived from adjectives, such as wysoce 'highly' or starkt 'strongly,' both Polish and Swedish possess a set of grammaticalized partitive nominals which perform the function of degree modification, e.g. odrobina 'crumb; a little' and smula 'crumb; a little,' as used in odrobinę lepszy 'a little better' and vänta en smula 'wait a little,' respectively. Analysing English data, Traugott (2008) observes that in order for such an item to grammaticalize into a degree adverb, it must first acquire the status of an indefinite quantifier, in which case it still co-occurs with nominal collocates, yet solely encodes the abstract notion of quantity. Accordingly, this process can be schematized as follows: partitive ('a part/unit of') > quantifier ('a small/large quantity of') > degree modifier ('to a small/large degree/extent.') On the basis of linguistic material extracted from a number of lexicographic sources, it is argued here that the validity of the above-described grammaticalization path can likewise be extended to the history of the two aforementioned nouns, viz. the Polish lexeme odrobina 'crumb; a little' and its Swedish counterpart smula 'crumb; a little,' both of which developed the adverbial sense only after having established themselves as vague quantifiers.
Afiliacja
Uniwersytet Jagielloński w Krakowie
Olga Dziedzic
Personnamn som översättningsproblem. En studie av Andrzej Stasiuks roman Dziewięć och dess svenska översättning
DOI: 10.26361/ZNTDH.09.2018.23.03
33 – 49
Słowa kluczowe
polska, översättning, personnamn, svenska, jämförande analys
Streszczenie
I denna artikel försöker jag besvara frågan vilka översättningsmetoder översättaren Tomas Håkanson använder sig av för att översätta personnamn i den svenska översättningen av den polska romanen Dziewięć. Personnamn (med även andra typer egennamn) är en viktig beståndsdel av det litterära språket i romanen och påverkar därför såväl berättelsens innebörd som textens språkliga och konnotativa dimension. Materialet för den jämförande analysen utgörs alltså av exempel på olika typer personnamn som oftast är starkt kopplade till källtextens kulturella kontext och kan därför vålla svårigheter vid översättningsprocessen.
I den första delen av artikeln gör jag ett försök att definiera begreppet egennamn samt föreslår en indelning av egennamn i semantiska kategorier som bland annat betydelsegruppen personnamn ingår i. Dessutom anger jag de vanligaste översättningsmetoderna som översättare brukar använda sig av vid översättning av personnamn och även andra typer egennamn. Textmaterialet och forskningsmetoden beskrivs kortfattat i nästa kapitel. I artikelns huvuddel genomförs en komparativ analys som baseras på exempel ur Andrzej Stasiuks roman Dziewięć och dess svenska översättning Nio. I sista kapitlet diskuteras slutsatser som har framgått av den genomförda analysen.
Afiliacja
Uniwersytet Jagielloński w Krakowie
Paweł Kaźmierczak
Do Moomins Have Nebs? Polish Translation Of Boel Westin's "Tove Jansson. Ord, bild, liv"
DOI: 10.26361/ZNTDH.09.2018.23.04
51 – 80
Słowa kluczowe
Tove Jansson, biography, translation, quality, functional analysis, mistakes
Streszczenie
The aim of this paper is to present the result of an attempt of functional analysis of the Polish translation of Tove Jansson's biography: Tove Jansson. Ord, bild, liv written by Boel Westin. The comparative analysis of the text is based on the Margaret Amman's five step functional model of quality assessment with incentive in the translated text not the original. The quality criteria for analysis follow the conclusions of professor Andrzej Kopczyński postulating the application of a unique combination of cultural, situational and language factors in every analysis. The analysis itself follow the guidelines of language correctness described by professor Andrzej Markowski. The results of analysis revealed different types of internal lingual – systemic and internal lingual – stylistic mistakes proving the point that the Polish text of translation do not meet qualitative criteria set for a good translation.
Afiliacja
Uniwersytet Warszawski / Wydział Lingwistyki Stosowanej
Maria Rola
Polska maträtter i den svenska översättningen av Małgorzata Musierowicz ungdomsroman Szósta klepka
DOI: 10.26361/ZNTDH.09.2018.23.05
81 – 94
Słowa kluczowe
kulturella referens, kulturbundna element, kulturell översättning, översättning av mat, food translation
Streszczenie
Syftet med artikeln är att analysera översättningen av kulturreferenser gällande mat och dryck. Föremålet för analysen är Małgorzata Musierowicz roman Szósta klepka (1977) och dess svenska översättning Sjätte sinnet (1984, Lennart Ilke).
Först presenteras problemet och begreppen kulturella referenser och food translation definieras. Sedan introduceras översättningsvetenskaplig forskning relevant för studien samt material och metod. 18 valda kulturbundna element kartläggs och analyseras i en jämförande deskriptiv studie.
Resultatet visar att kulturbundna element har översatts med hjälp av följande översättningstekniker: funktionell ekvivalens, hyperonym, hyponym, utelämning och direkt översättning. Vid några tillfällen förekommer det även omskrivning.
Analysen visar att översättaren har valt den domesticerande översättningsstrategin för att återge de kulturella referenserna. Måltexten har således blivit domesticerad för att göra den polska verkligheten mindre främmande för svenska läsare.
Afiliacja
Uniwersytet Jagielloński w Krakowie
Patrycja Zaborowska
Konceptualisering av språkspel i den svenska översättningen av Księgi Jakubowe (Jakobsböckerna) av Olga Tokarczuk. "Till stor del består världen av ord, som, sedan de väl uttalats, gör anspråk på den allmänna ordningen..."
DOI: 10.26361/ZNTDH.09.2018.23.06
95 – 107
Słowa kluczowe
språkspel, Jakobsböckerna, Olga Tokarczuk, kognitiv syn på översättning, konceptualisering
Streszczenie
Denna artikel handlar om den svenska översättningen av språkspel i romanen Jakobsböckerna av Olga Tokarczuk. Artikeln är baserad på Elzbieta Tabakowskas teori om formning och konceptualisering. Målet med denna artikel är att bedöma om och på vilket sätt konceptualisering av språkliga bilder i översättningen korresponderar med konceptualisering av språkliga bilder i originalet. Jag försöker bedöma om förnimmelse av romanen sker på motsvarande kognitiv nivå i båda språkversionerna. För att göra det analyserar jag språkpel i originalet och översättningen separat och sedan jämför jag de båda versionerna. På basis av detta drar jag slutsatser angående översättarens strategi när det gäller konceptualisering av språkspel i romanen på svenska.
Afiliacja
Uniwersytet Jagielloński w Krakowie
Sonia Ławniczak
From a Safe Distance – Swedish Portrayal of World War II. Astrid Lindgren: Krigsdagböcker 1939–1945
DOI: 10.26361/ZNTDH.09.2018.23.07
109 – 119
Słowa kluczowe
Astrid Lindgren, Swedish literature, World War II, Holocaust, collective memory, remembrance
Streszczenie
The article refers to the latest methodological reflections on the remembrance culture and presents one of the forms of Swedish collective memory thematization. The 1990s brought an increased interest of the Swedish people in the history of their own country and debates on the stance taken by Sweden during World War II. Diaries, memoires, autobiographic and documentary novels about World War II and the Holocaust gained recognition among Swedish researchers and readers. Among the latest prose works, coming under this thematic heading, Krigsdagböcker 1939–1945 (War Diaries 1939–1945) by Astrid Lindgren, published posthumously in 2015, merit attention. When analyzing the image of World War II presented in the diaries, the following issues were taken into account: the image of everyday life of the Swedes during World War II, the state of knowledge of the situation in Europe and the attitude towards the Swedish neutrality.
Afiliacja
Uniwersytet Adama Mickiewicza w Poznaniu
Agnieszka Maria Proszewska
Axel Hägerström, Uppsala School, and the Rise of Swedish Analytical Philosophy
DOI: 10.26361/ZNTDH.09.2018.23.08
121 – 132
Słowa kluczowe
Uppsala School, Axel Hägerström, logical positivism, analytical philosophy
Streszczenie
While in Norway or Finland the analytical tradition is usually regarded as having its roots in Vienna, in Sweden it is generally associated with the choice of Axel Hägerström (1868–1939) for a professor of practical philosophy at the University of Uppsala. It was Hägerström who broke with Boström's idealism, which dominated Swedish philosophy since the mid-19th century, replacing it with a new school called Uppsalafilosofin, and adopting conceptual analysis as the central method of modern philosophy. Teaching from 1893 until his retirement in 1933, Hägerström attacked the philosophical idealism of the followers of Christopher Jacob Boström (1797–1866), going down in history as the founder of (quasi-)positivist school of philosophy in Uppsala – the Swedish equivalent of Anglo-American analytical philosophy and logical positivism of the Vienna Circle. Under the influence of neo-Kantianism, he called for the final rejection of metaphysics, assuming the motto: "Praeterea censeo metaphysicam esse delendam" (eng. "I also think that metaphysics should be destroyed.") The aim of this paper is to present the philosophical figure of Axel Hägerström and the Uppsala School created by him. Then, analyzing the assumptions and fundamental postulates, we will discuss their impact on the development and shape of analytical thought in modern Sweden.
Afiliacja
Uniwersytet Jagielloński w Krakowie / Wydział Filozoficzny
Uniwersytet Jagielloński w Krakowie
Pobierz cały numer
1 – 134